35th Annual Mark Eliason 3-Club Scramble Golf Classic -Click Register to purchase tickets online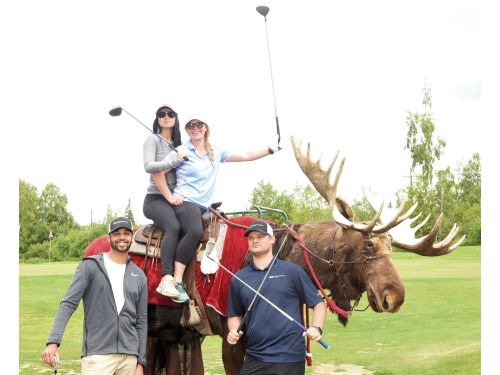 Event Completed!

When: Tuesday, June 20, 2023
Where: Moose Run Creek Golf Course
Time: 7:00 AM MT
When: Tuesday, June 20, 2023
Where: Moose Run Creek Golf Course
Time: 7:00 AM AKST


Join us for a day on the greens in this fun, unique format for a golf classic. Registration fees are $1,000 per foursome / $200 per golfer and include green fees, cart rental, golfer gift, breakfast, admission to the Awards Banquet, opportunity to win a Lexus and many, many more prizes!

TOURNAMENT RULES
The tournament is a Three Club Scramble, with the option to purchase a putter (mulligans and string are also available for purchase). Only three clubs may be used by any one player during the entire tournament (including putter). Each team will have twelve clubs (and four putters if purchased), but a player may only use their selected three clubs. Short teams (teams of two or three) will rotate players sequentially to hit for the absent player(s).



Team Scramble: Each team member hits his/her own ball from the tee. Once a shot is selected, the other team members pick up their balls and move to that position. All team members hit their next shot from a position within one club length of the team's selected shot. BUT NOT CLOSER TO THE HOLE! Putts must be made from the same spot as the selected ball on the green. Putts must be holed out (unless using string) – NO GIMMIES! Maximum score on any 1 hole is a double bogey.



Course Marshals will monitor the tournaments timely progress (maximum of 15 minutes per hole per team). The Course Marshal has the authority to assess a one-stroke penalty if he/she determines that a team is impending course play.

Need More Information?
For more information about this event, please contact ttaylor@ja.org
Sponsors
Golf Scramble Title Sponsor
Become a Sponsor!
Sponsorships for these events are critical for Junior Achievement to continue providing life-changing programs to students in our community. These programs are delivered at no cost to students. You can make a difference in the lives of these students by participating in this world-class event!
Contact us
to get more information on how to sponsor a JA Event!