36th Annual Alaska Business Hall of Fame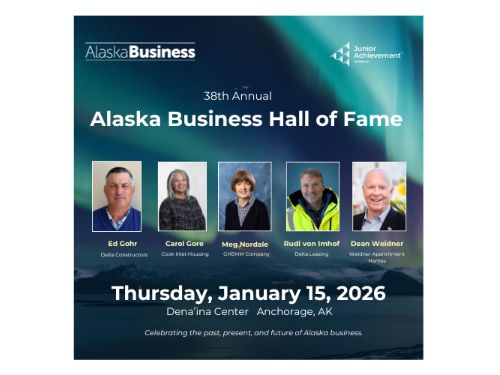 Please join us for a Celebration of the Alaska Business Hall of Fame through a special edition digital magazine that includes videos and speeches from past Laureates, students, behind the scenes footage, bloopers, and more.

---- Details about the 2024 event -----

Class of 2024 Laureates:
- Sheri Buretta, Chugach Alaska Corporation
- Dave Karp, Saltchuk
- Mark Pfeffer, Pfeffer Development
- Jennifer Schrage, Signature Land Services

The induction ceremony into the Alaska Business Hall of Fame will be held Thursday, January 19, 2023 at the Marriott Hotel in Downtown Anchorage, AK. Alaska Business is the Title sponsor of this event. Alaska Business will feature an interview and biography of each of the Laureates in the January 2023 edition. All proceeds from the event will benefit Junior Achievement of Alaska's statewide K-12 programs teaching financial literacy, workforce readiness, and entrepreneurship to more than 15,000 students annually in Alaska.



In 1987, Junior Achievement of Alaska, Inc. began the Alaska Business Hall of Fame to honor outstanding individuals of Alaskan business. Since then, the Hall of Fame has become one of the state's most prestigious events, inducting new Laureates on an annual basis.

The 36th annual celebration includes:

Reception beginning at 5:30 p.m.
Dinner and induction ceremony at 6:30 p.m.
Concluding by 8:30 p.m.


The evening will also include a special recognition of the many past inductees who will be in attendance. Individual tickets are $150, with limited sponsorship opportunities available. Please email Flora Teo or call 907-344-0101 for more information.

All proceeds benefit Junior Achievement of Alaska's statewide K-12 economic education programs, benefiting 15,000 students in 55 Alaskan communities on an annual basis.
Become a Sponsor!
Sponsorships for these events are critical for Junior Achievement to continue providing life-changing programs to students in our community. These programs are delivered at no cost to students. You can make a difference in the lives of these students by participating in this world-class event!
Contact us
to get more information on how to sponsor a JA Event!