JA Biz Camp Alaska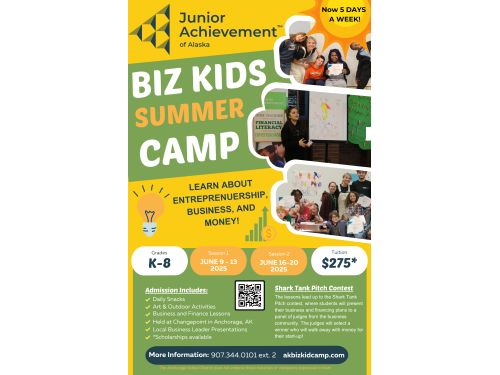 Event Completed!

When: Monday, June 06, 2022 - Thursday, June 16, 2022
Where: Alaska
Time: 8:00 AM MT
Camp Programs
Campers will participate in 3 different types of activities: outdoor recreation; character and leadership development; and Junior Achievement work readiness, entrepreneurship and financial literacy programs.

June 6 -9
8 AM - 4 PM
Chester Valley Elementary School

June 13-16
8 AM - 4 PM
Bowman Elementary School

Junior Achievement Programs
Junior Achievement curriculum introduces and develops campers' knowledge and skills in work readiness, entrepreneurship and financial literacy. All JA lessons are highly interactive and engaging. Campers will create presentations, art projects and play games all while learning valuable skills.

Grades K-2
Ourselves, Our Families, Our Community
Campers in grades Kindergarten, 1 and 2 learn concepts connected closely to them, personally.

Grades 3-5
Our City, Our Region, Our Nation
Campers in grades 3, 4 and 5 learn concepts connected to their community as a whole and the world at large.

Grades 6-8
Company Program
Middle school campers will launch and run a Pop-Up shop, with the proceeds going to a non-profit of their choice.

Outdoor Recreation
All campers will have the opportunity to participate in cooperative and inclusive outdoor/indoor physical activities. Camp staff will facilitate activities using the CATCH Curriculum (Coordinated Approach to Children's Health).

Character and Leadership
All Campers will participate in character and leadership development lessons and activities. Campers will develop values and character traits such as respect and responsibility. The curriculum taught is Overcoming Obstacles. Lessons are facilitated within each grade level group: K-2; 3-5; 6-8.

About us
Junior Achievement's mission is to educate and inspire young people to succeed in a global economy. Read more about our impact in Alaska at alaska.ja.org
Become a Sponsor!
Sponsorships for these events are critical for Junior Achievement to continue providing life-changing programs to students in our community. These programs are delivered at no cost to students. You can make a difference in the lives of these students by participating in this world-class event!
Contact us
to get more information on how to sponsor a JA Event!