Take Off with Junior Achievement and JA Launch Lesson
Author: Kelsey Matzinger
Entrepreneurship
Published: Wednesday, 01 Nov 2023
---
Sharing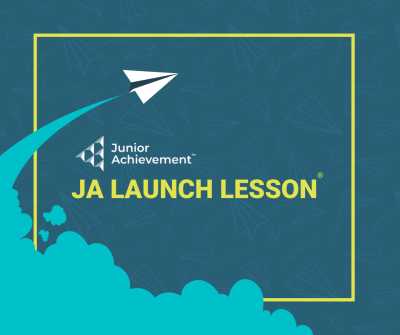 Image caption: JA Launch Lesson is paving the way for the business leaders of tomorrow.
Calling all future entrepreneurs and aspiring business moguls! If you're young and ambitious and looking to transform your dreams into a thriving business, or if you're simply curious about how to start your entrepreneurial journey, you're in the right place. Our role at Junior Achievement is to foster young entrepreneurs, and our learning experience, JA Launch Lesson, is paving the way for the business leaders of tomorrow.
Why JA Matters for Aspiring Entrepreneurs
Our programs are designed to be hands-on, interactive, and experiential, making learning a lot more engaging and fun. Our volunteer mentors, often professionals from the business world, share their real-world experience, which adds a layer of authenticity to the learning process.
Practical Learning: JA doesn't just preach theory; it's all about hands-on, real-world learning. The programs are designed to help students experience business concepts, financial literacy, and entrepreneurship tangibly.
Networking: Through JA, students get to connect with experienced professionals in their community who can mentor and guide them. This is invaluable for those looking to start their own ventures.
Building Soft Skills: Entrepreneurship isn't just about business plans and profits. It's also about leadership, teamwork, communication, and problem-solving. JA programs help students develop these essential soft skills.
Inspiration: Learning from real-life success stories and understanding how businesses operate can be incredibly inspiring. JA shows students what's possible and encourages them to dream big.
Confidence: By participating in JA programs and projects, students gain confidence in their abilities and their potential as an entrepreneur. This boost in self-esteem can be a game-changer.
JA Launch Lesson: Nurturing the Entrepreneurial Spirit
So, what's the buzz about JA Launch Lesson? It's one of JA's efforts to nurture the entrepreneurial spirit in young minds. Here's what you need to know.
JA Launch Lesson is an innovative program designed for high school students who dream of starting their own businesses. It is a point-of-entry program delivered by community entrepreneurs where students gain firsthand knowledge about starting a business and the entrepreneurial journey.
Mentorship: JA Launch Lesson connects students with business professionals who can guide and mentor them throughout the process. This mentorship is a priceless resource for young entrepreneurs.
Inspiration from Success Stories: JA Launch Lesson brings in community entrepreneurs who've turned their startup dreams into reality. Hearing these stories can ignite a spark within students and motivate them to pursue their own ventures.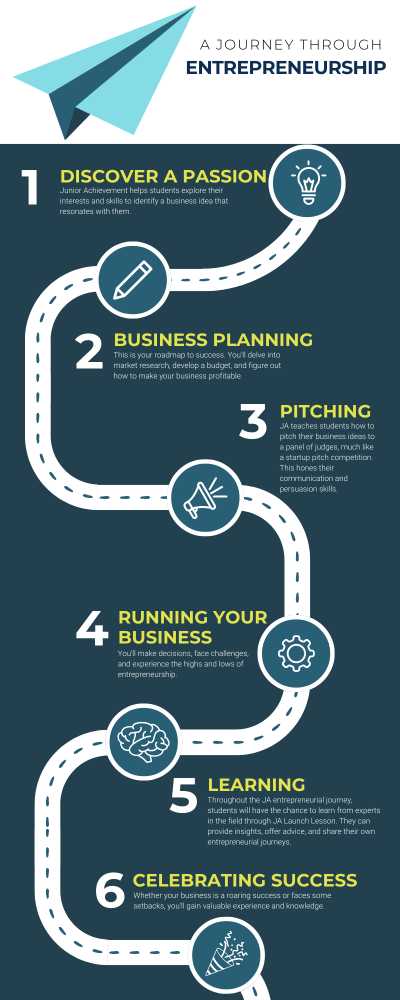 A Journey Through Entrepreneurship
Let's peek at what a journey through entrepreneurship might look like. Remember, the path to entrepreneurship is not linear, but this will give you a general idea of what to expect.
Discovering A Passion
It all starts with a spark, an idea, or a passion. Junior Achievement helps students explore their interests and skills to identify a business idea that resonates with them. This is the first step in turning their dreams into reality.
Business Planning
Once settled on an idea, it's time to create a business plan. This is the roadmap to success. Entrepreneurs will delve into market research, develop a budget, and figure out how to make their business profitable.
Pitching Your Idea
In the real business world, entrepreneurs often need to convince others to invest in their ideas. JA teaches students how to pitch their business ideas to a panel of judges, much like a startup pitch competition. This hones their communication and persuasion skills.
Running Your Business
Now, it's time to start running the business. This isn't a simulation; it's the real deal. Entrepreneurs will make decisions, face challenges, and experience the highs and lows of running a start-up.
Learning from Experts
Along the way, entrepreneurs will meet others who have started and run their own businesses, and they can provide insights, offer advice, and share their entrepreneurial journeys. Throughout the JA entrepreneurial pathway, students will have the chance to learn from experts in the field.
Celebrating Success
At the end of the entrepreneurial journey, business owners get to celebrate their achievements. Whether the business is a roaring success or faces some setbacks, valuable experience and knowledge were gained.
Junior Achievement and our learning experience JA Launch Lesson are playing a pivotal role in shaping the entrepreneurs of tomorrow. We're providing the education, mentorship, and real-world experience needed to thrive in the ever-evolving business landscape.
If you're a young entrepreneur at heart or someone who's just curious about the world of business, consider exploring our entrepreneurship programs. It might be the spark that ignites your entrepreneurial journey and propels you toward success.